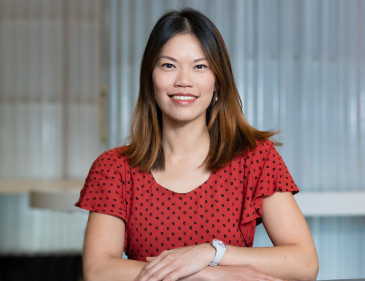 Email Janice Cheng
+64 22 177 2234
LinkedIn Profile
Kia ora tātou
Ko Penang Hill te maunga
Ko Straits of Malacca te moana
Nō Penang, Malaysia ahau
Ko Cheng tōku whānau
Ko Janice tōku ingoa
As Head of Health and Wellbeing at Wellington UniVentures, Janice leads and manages the team to create impact and commercial outcomes from Te Herenga WakaꟷVictoria University of Wellington's research, and provide commissioned research services to industry clients. Janice also works closely with world-leading carbohydrate chemistry institution, the Ferrier Research Institute to support their research in biotechnology creating better drugs, materials, and technology for the world.
Janice holds an undergraduate degree with honours in biomedical science, and a PhD in chemistry and immunology-both from Te Herenga WakaꟷVictoria University of Wellington. It was while working under the supervision of Associate Professors Bridget Stocker and Mattie Timmer that Janice developed 'glowing' glycolipid adjuvants derived from marine sponges, for use in cancer immunotherapy.
Following her time at Te Herenga Waka, Janice worked in Melbourne for three years as a postdoctoral fellow on projects around antigen recognition, under the Australian Research Council Centre of Excellence for Advanced Molecular Imaging.