Published Feb 3, 2021
A company co-founded by researchers at Victoria University of Wellington has received consent from Medsafe, the New Zealand clinical trial regulator, that will allow them to trial their ground-breaking drug discovery in patients living with multiple sclerosis (MS) in New Zealand. The trial will also be expanded to enrol patients in Australia.
MS is a chronic neurological disorder that causes lesions in the nervous system due to destruction of myelin sheathes (nerve coverings) in the brain and spinal cord. In turn, this causes messages from the brain to be slowed or blocked, affecting movement and causing symptoms such as impairment of vision, cognition and sensation.
Pre-clinical research conducted by Professor Anne La Flamme and Associate Professor Bronwyn Kivell from the University's School of Biological Sciences—working with Thomas Prisinzano from the University of Kentucky—identified a set of compounds that could potentially restore the myelin sheath—and consequently improve function for many of the 2.5 million people worldwide who are affected by MS.
"Current therapies only slow the rate of disease progression; until now, none have actually been able to reverse the damage," says Dr Janette Dixon, CEO of Rekover Therapeutics, a Wellington UniVentures spin-out company established with funding from New Zealand Innovation Booster to help the two scientists to commercialise their work, and ensure it has impact.
"One of the stars in the set of Rekover's compounds has produced stunning data in an experimental model of MS—reversing paralysis and restoring myelin levels to normal," she says. "A proof-of-concept clinical trial is the next critical step in commercialising a treatment that could have life-changing outcomes for sufferers of MS."
Janette says that Rekover—which she co-founded with Anne and Bronwyn—is now seeking funding to support the clinical trial and she is in discussion with large pharmaceutical companies and venture capital fund managers.
"Anne and Bronwyn have been doing a fantastic job carrying out additional research so that we can present a more complete package to investors," she says.
The CEO is also quick to point out just how instrumental Wellington UniVentures has been in getting the project to this point. "They invested in the programme early, dollar-matching the pre-seed investment from KiwiNet, protecting the intellectual property by filing patents and helping to shape the project into a spin-out company."
She says Wellington UniVentures also helped to secure additional business and drug development experience when necessary, including her own appointment as CEO. A very experienced Board of Directors has been appointed which includes Dr Anne Barnett, Wellington UniVentures CEO—to help this innovation find the best pathway to market.
"Once our clinical trial has successfully concluded we'll be looking at licensing our compounds to a large pharmaceutical company with the scale to complete clinical development," says Janette. "They have the necessary resources to launch a drug to market so that it can reach the patients it is designed to help."
Having worked on other MS projects before, Janette says she has developed a great deal of compassion for people living with MS and is passionate about making a difference.
"It feels like unfinished business for me," she says.
The Victoria University of Wellington-based research team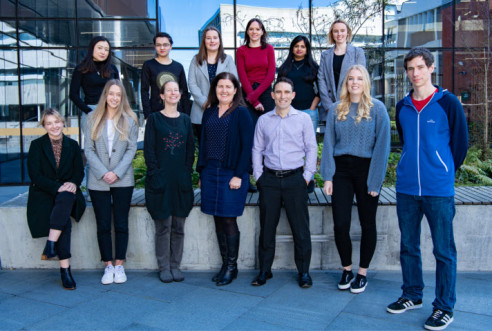 Back:

Sheein Hong, Rabia Bibi, Bria Pengelly, Lisa Denny, Dr Diana Atigari, Amy Alder
Front:

Kendra Boyes, Brittany Scouller, Prof Anne La Flamme, A/Prof Bronwyn Kivell, Dr Ryan Graves, Dr Kelly Paton, Sven Sondhauss
Absent: Dr A

ndy Biggerstaff, Dr Katharina Robichon, Afnan Al Abadey