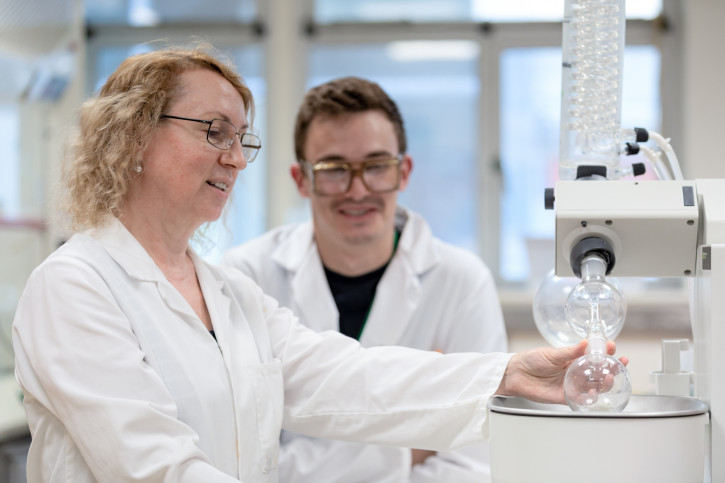 Around 3,000 women and 20 men are diagnosed with breast cancer every year in New Zealand—the principal cause of death remains the spread of primary tumours to other parts of the body (metastasis). And while current anti-cancer drugs focus on killing rapidly dividing cancer cells, they also affect normal cells in the process—causing patients to experience adverse toxic side effects as a result.
A Victoria University of Wellington researcher has taken a completely different approach to treatment, focusing her research on an enzyme called heparanase—and the role it plays in the metastasis of breast cancer. Heparanase weakens the "glue" that holds cells together, breaking down tissue barriers and enabling cancer cells to escape and spread to other tissues, such as brain and liver.
Dr Olga Zubkova, from the University's Ferrier Research Institute, plans to use the novel, sugar-based compounds she has developed to inhibit over-expressed heparanase and restrict the growth of tumours—ultimately preventing the spread of cancer to other tissues—with no side effects.
Features and benefits
Non-toxic
The sugar-based, non-toxic compounds can be used in high concentrations with no patient side-effects.
Multiple future applications
These compounds may be used in the treatment of colorectal, prostate, liver and brain cancers—and as maintenance therapies to help patients in remission to stay cancer-free. They are also proving effective for wound and bone healing, and for neuroinflammatory diseases such as Alzheimers and Multiple Sclerosis.
Inexpensive and scalable
Reliable yields and the ability to scale up synthesis of these inexpensive compounds means they can be produced in a commercially viable manner.
Next steps
Having been awarded $100,000 of funding from the Breast Cancer Foundation New Zealand, and $1 million from the Ministry of Business, Innovation and Employment, Dr Zubkova and her team have worked with Wellington UniVentures to protect their intellectual property, and collaborated with scientists around the world to test the effectiveness of their bio-inspired compounds.
Already shown to significantly hinder the spread of blood and bone cancer in an animal model, the compounds were recently tested in Israel, during a collaboration with Professor Israel Vlodavsky—considered the world's leading expert in the study of the heparanase enzyme. After the compounds almost completely eliminated myeloma tumours in mice, Professor Vlodavsky declared the test results to be 'clear and profound'.
Next steps involve packaging such test results over the next three years to attract investment for clinical trials.
We are now seeking early engagement with interested individuals or organisations. Contact the Commercialisation Manager below to find out more.