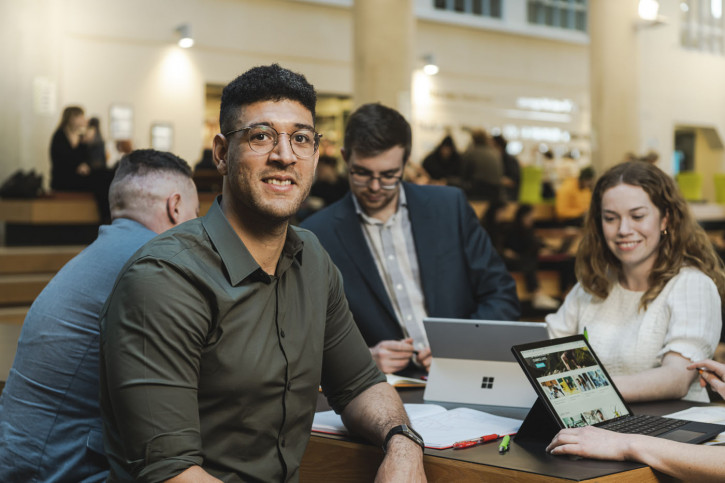 Dr Jamal Olatunji is a Research Engineer at Robinson Research Institute, researching the applications of superconducting magnets and machines for use in space.
As a self-confessed sci-fi fan, working in the space sector has always been an ambition of Jamal's, but it's a career he has only recently moved into. After studying Chemical Engineering, he gained an Engineering PhD at Massey University, working in the agricultural technology sector on industry focused projects with Oji Fibre Solutions and Zespri International, building a variety of mathematical models and optimisation tools. After completing his PhD, Jamal went on to work at the Massey AgriFood Digital Lab, and it was during this time that he progressed into working on AI and machine learning systems.
Pivoting industries at the start of 2020, Jamal jumped at the chance to work at the Robinson Research Institute. He saw the space industry as an evolving sector with lots of potential for both research and entrepreneurial activity. When Jamal met the team at Robinson, he was introduced to Wellington UniVentures' Senior Commercialisation Manager Nicole van der Laak, and she quickly saw Jamal's ambition to create impact. Nicole nominated Jamal for the Emerging Innovator Programme, to help him to take technology developed in the lab to the marketplace.
Joining the Emerging Innovator Programme
Recognising Jamal's drive to develop a commercial thruster, Wellington UniVentures' Nicole spoke to Jamal about the Emerging Innovator programme. Jamal has been working on the technical side of science and engineering for close to a decade and so learning more about the commercialisation process and how to take an idea to market was an important part of his development as an entrepreneur.
Jamal had heard of the Emerging Innovator Programme as a number of his colleagues had been through the process and he was able to speak to them about their experiences. Jamal's vision is to contribute to a spin-out company and create an investable product, but understands that commercial exposure will be a crucial part of his journey.
Jamal said: "I want to be able to solve real problems, so engaging with those in the space industry will be an important part of this and something I'm really interested in learning more about. That's what first drew me to the programme – the opportunity to connect with those in the space industry."
What's the project?
Jamal is working on electric thrusters for satellites and spacecraft. The technical name for the class of thruster being researched is an applied field magnetoplasmadynamic (AF-MPD) thruster. These thrusters were first developed by NASA in the 1970s, but the conclusion was that they were too bulky and required an incredibly strong magnetic field to work efficiently.
Jamal's project at Robinson is to develop a miniaturised AF-MPD thruster. He is aiming to solve this problem by using high-temperature superconductors, which can be used to generate strong magnetic fields in compact, lightweight devices. By integrating this with an AF-MPD thruster, Jamal is hoping to create highly efficient and high thrust electric propulsion systems.
How will the Emerging Innovator Programme support the project?
Jamal is most excited about the mentorship that the programme offers. Jamal told us: "I don't have much experience in commercialising research, particularly blue skies research. Working with someone who understands this will be incredibly valuable. Although I have always tried to do industry relevant work, I'm a very technical person, so I tend to focus on the modelling and getting the physics right, and producing research outcomes – it will be great to shift my focus to impact and what will be useful for industry, the world and society."
Jamal is also looking forward to taking part in the professional development programmes and learning more about how to start a company, how to engage with the market and how to think more strategically rather than scientifically. "I have the view that I have the technical skills to design and build anything, but if I build the wrong thing, what use will it be for? So, I'm looking forward to getting more entrepreneurial experience, learning how to talk to potential customers about what they want, and how to pitch a technical idea in a way that makes sense to investors."
Jamal is part of the Robinson Research Institute team working on a five-year development programme funded by the Ministry of Business, Innovation and Employment (MBIE), which will see an AF-MPD thruster tested in space in 2025. Having both technical and commercial knowledge on the team is hugely beneficial to progressing this technology through to market.
Nicole said: "It's great to work with Jamal who has such a passion to see his ideas work. He understands the importance of shaping an idea to suit the market, so the Emerging Innovator Programme will be a great platform for him to grow his skills and knowledge in creating impact."