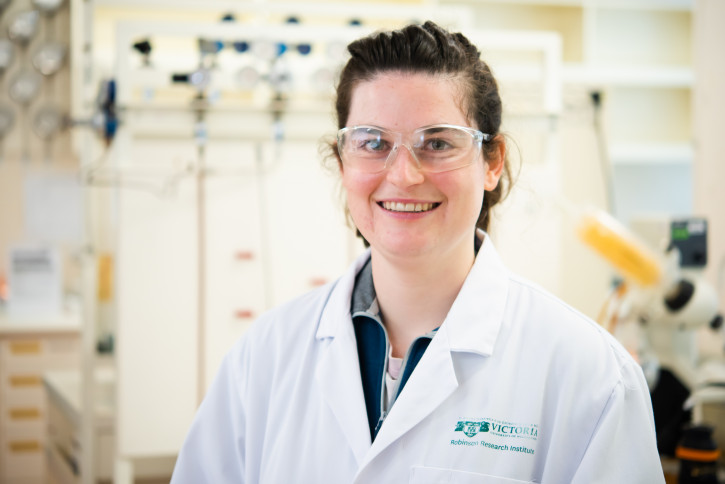 Megan Girdwood started out her career studying at the University of Canterbury, achieving a Bachelor of Engineering with honours in Chemical and Process Engineering. After spending some time in industry working as a research engineer at the National Renewable Energy Laboratory in Colorado, Megan decided to return to New Zealand to complete a Master's in Chemical Engineering at Paihau—Robinson Research Institute.
Megan is a master's candidate on Dr Chris Bumby's MBIE project, which is focused on the development of green steel, by replacing coal with hydrogen in the steel-making process. Through her research on the project, Megan has discovered a new, clean way to extract vanadium from steel slag, a by-product of the steel industry.
Globally, most vanadium is extracted from steel slags and sold on for other uses including vanadium alloys for medical implants, aviation frames and high-strength steel. But the existing processes to do this are toxic and produce caustic wastewater, carcinogenic dichromate and corrosive gasses. New Zealand's strict environmental regulations means that those processes cannot be undertaken here. Instead, the vanadium slag is shipped offshore, where it's turned into vanadium pentoxide (the useable raw material).
Megan's goal is to revolutionise the industry and produce the world's most sustainable source of vanadium from renewable electricity and by-product steel slag. Learning how to develop the process into an initiative that can be used globally, Megan was introduced to Wellington UniVentures who supported her application on to the Emerging Innovator Programme.
Joining the Emerging Innovator Programme
Megan had envisioned a career working in R&D, but never considered it would be for her own company. Learning from Dr Bumby and being introduced to Wellington UniVentures has set Megan on a new career path. The Wellington UniVentures team thought the Emerging Innovator Programme would be a great starting point for Megan to develop her commercial acumen and learn more about how to protect and develop her idea.
"When my research was coming to life, I thought it would be great for it to be used in the industry but didn't know how to get it to that point," explained Megan. "Having the support of Wellington UniVentures to guide me through this process has been very helpful. I didn't know this was where my research would take me, but I'm really enjoying learning about the business side of setting up a company. It's been great to connect with industry partners and find out more about how I can advance my research. I've also had the opportunity to connect with other early career researchers on the programme to find out more about how they plan to take their ideas to market."
Roger Zemp is one of Wellington UniVentures' new Senior Commercialisation Managers who is overseeing the project and will help Megan on her next steps. Roger shared: "Working with innovators who are developing research projects which have the potential to disrupt industry norms is exciting. It's great to work with Dr Bumby and see him inspire his students to go on to create real impact from their studies. We look forward to seeing Megan develop her commercialisation skills and contribute to building a more sustainable future."
The Project
Megan has developed a closed-loop process for extracting vanadium which eliminates waste pollutants so that it meets New Zealand's strict regulations for industrial wastewater. The process produces a very high purity (more than 90%) vanadium pentoxide, which is the globally traded precursor to vanadium metal alloys. The system is designed so that much of the energy, water and reagents are recycled through the system and reused.
Vanadium pentoxide can be utilised within the steel mill where they can make low weight, high strength titanium alloys. Alternatively, it can also be used in redox flow batteries which are used to store renewable energy on a large scale.
The process Megan has developed could significantly enhance the value of New Zealand's ironsand (which is used to make local steel) and possibly develop processes for similar deposits around the world.
How will the Emerging Innovator Programme support the project?
Until now, Megan has been focused on developing her researching and working to complete her Masters. Joining the Emerging Innovator Programme will give her the support to apply her research to the real world. Megan told us: "The biggest thing for me is getting some education around the business side of things. I've been heavily involved in the research and getting the project to a stage where it can be tried and tested, but I'm excited to learn more about how to get it market ready and connect with people in the industry."
The programme has given Megan a kickstart to learn more about protecting intellectual property and market validation. KiwiNet also run several workshops alongside the Emerging Innovator Programme which Megan has attended. She recently joined a customer discovery workshop where she learnt best practises for connecting with potential customers and understanding what they need so that she can develop her research.