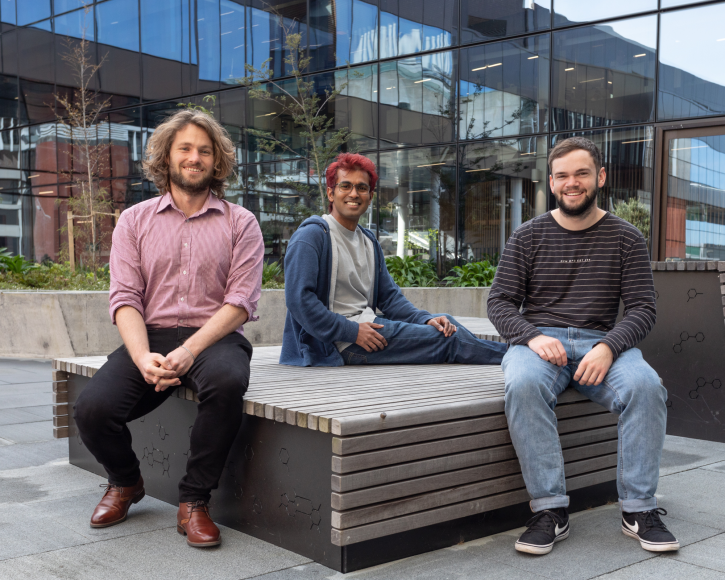 Originally from Singapore, Artificial Intelligence researcher Muru Odiathever began his academic life as a mathematician . Choosing to focus on application rather than theory, he entered the world of computer science and engineering.
In contrast, Dr Duncan Cameron's entry into the field of wireless networks was borne out of necessity. The internet was so slow at his parents' remote property in the Horowhenua District, that he was unable to go home to study. His response was to create his own network to access the internet—something he managed so successfully that local farmers soon asked if they could join too.
It was the potential for machine learning to tackle the issue of detecting energy problems in remote networks that brought the two together. Both studying Engineering and Computer Science at Te Herenga Waka—Victoria University of Wellington, Muru was working on developing a new hybrid machine learning tool but required Duncan's skillset to develop hardware and software components. Working together, the pair have developed a machine-learning protocol that finds network faults.
Thanks to the support of Wellington UniVentures and the KiwiNet Emerging Innovator Programme, Muru and Duncan have established an understanding of the market and have been on a journey to develop the application of their research.
Joining the Emerging Innovator Programme
During the early stages of developing their idea, the pair were referred to Wellington UniVentures by Muru's PhD supervisors. The commercial team quickly saw the benefits of this technology and the aspirational drive from Muru and Duncan.
When it was suggested they apply for the Emerging Innovator Programme, neither Muru nor Duncan knew what it was. Learning about the support the programme offered to early career researchers, they prepared and delivered a presentation to KiwiNet and were accepted onto the programme—the first time a team had been invited to join.
Paul Geraghty, Muru and Duncan's Commercialisation Manager at Wellington UniVentures shared: "Developing their work, both Muru and Duncan saw a potential new career path, rather than the traditional academic route. We wanted to support them as they grew their entrepreneurship acumen and knew that the Emerging Innovator programme would be a great first step. The pair are highly motivated to turn their research into a functional product and this programme has helped them learn how best to take their idea to market."
What's the project?
When Muru and Duncan first joined the Emerging Innovator programme, they had been working on a two-stage hybrid learning tool for assessing internet network issues. They found that their algorithm could draw more accurate conclusions when looking for network abnormalities with fewer false positives.
It was through their time on the programme that the pair connected with potential industry partners and learned that their idea would not deliver sufficient cost savings or monetary value to warrant investing.
This led the pair to explore new markets and they began to test their algorithm for new applications including testing video streams for traffic accidents.
How has the Emerging Innovator Programme supported the project?
Over the course of the programme, the pair undertook market validation and were connected with industry partners. When identifying business pain points, they found the complex nature of commercialisation led them down product development streams, service consulting and license models but additional work could not be justified at this point. This was a great learning curve for Muru and Duncan. While developing their skills as entrepreneurs, they were able to open the minds to new applications.
Currently, the focus is on using machine learning to analyse information from traffic cameras and look for accidents. In that setting, an improved detection rate could be the difference between life and death.
The pair have benefited greatly from the programme. "The biggest takeaways for me have been the market validation knowledge and coaching on how to approach businesses. We've learnt how being an entrepreneur doesn't always mean staying on one path, it's about adapting and developing your technology. We want to create a product that has impact, and to do that, you need to listen and understand what's going on in the market you want to tap into," says Duncan.
For Muru, it was about shifting the language. "When I started out, I had no idea how to explain any of our research in plain English. It was all about the maths. As our project has shifted, we've learned how to talk to businesses about the impact our work can have." Muru recalled.
"It has also given me the opportunity to meet and make lasting connections with many people in the industry including other aspiring innovators. It helped me see myself as part of a bigger picture and motivates me to contribute to the community."
Being an entrepreneur isn't always an easy journey and joining the Emerging Innovator programme at an early stage in their work, Muru and Duncan have been able to recognise and overcome these challenges, showing strong signs of entrepreneurship. The pair are ambitious and continue to create products and solve problems.