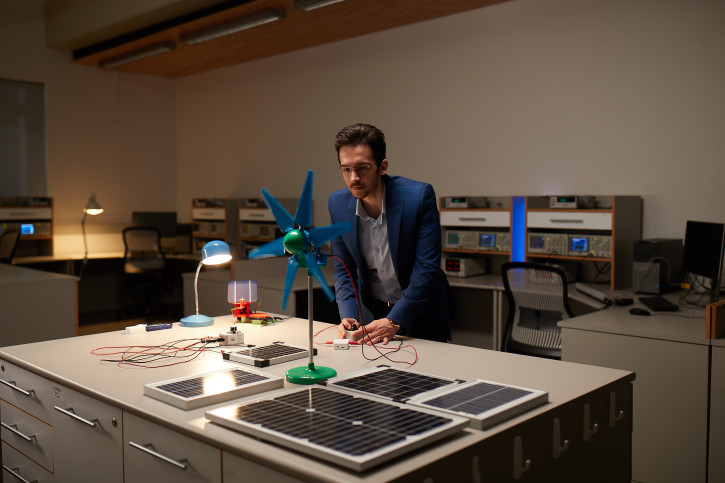 After studying Electrical Engineering in his home country of Iran, Soheil moved to New Zealand to complete his PhD at Te Herenga Waka—Victoria University of Wellington, focusing specifically on the applications of artificial intelligence (AI) and machine learning (ML) techniques in designing sustainable energy systems. Soheil's research specifically looks at microgrids integrating renewable energy. Soheil moved to New Zealand to study under the supervision of Professor Alan Brent, a world-renowned expert on the subject.
For Soheil, Aotearoa has set a standard for its renewable energy use and Te Herenga Waka was the perfect place to learn more about how to build a sustainable future.
With the support of Professor Alan Brent, Soheil has been able to complete his PhD research, which uses AI and ML techniques to improve the reliability, resilience and affordability of using renewable energy via a computational tool.
Wanting to better understand the market needs to further advance his tool and protect the intellectual property around his idea, Soheil was advised to work with Wellington UniVentures. The team have helped to shape his research for real-life application and upskill Soheil in his commercialisation development.
Joining the EI programme
Working with Wellington UniVentures to protect his idea, Soheil was connected with Mick Riley. Mick recognised Soheil's drive to create impact from his work and suggested that Soheil applies for the Emerging Innovator programme, knowing that it would support him in better understanding the pathway to market.
"It's inspiring to work with an enthusiastic early career researcher who is keen to learn and wants to take the next steps to ensure that their idea can be used for impact," says Mick.
"Soheil wants to expand his research to help build a sustainable low-carbon future. One way he can do this is by really understanding industry pain points. By joining the Emerging Innovator Programme, Soheil will gain insights from a mentor in the renewable energy sector and will be able to ensure that his research addresses some of the challenges that are currently being faced by the industry."
The Project
Soheil has developed SMOULDER (Stochastic Microgrid Optimisation under Uncertain Loads and Distributed Energy Resources), an optimisation tool to be used during the strategic investment planning and designing phase of microgrid development and decision-making. It optimises the size of each component (e.g. solar panels, wind turbines, wave energy technologies, bioenergy, battery packs, and hydrogen storage amongst others), and in turn, the total generation and storage capacities of the system. This is achieved through AI- and ML-powered algorithms which can forecast factors such as when and how much power would be required at certain times, pricing and customer actions based on historical data, especially in view of less predictable loads of future, such as electric vehicles. Unlike traditional power grids, microgrids generate and supply power for local consumption, compared to transmitting energy over long distances through transmission lines, which is associated with losing some of the energy along the way and heightening resilience risks.
By optimising the use of renewable energy in a localised manner, Soheil's project has the potential for communities globally to have more equitable access to affordable, reliable, resilient, and sustainable energy.
How will the EI programme support the project?
Over the course of his PhD, Soheil has developed the computational codes for the tool, and it is now ready to be tested further. The next step for Soheil is to work through some of the ambiguities of the product and understand if the tool should be evolved into a standalone software package or embedded into existing programmes.
Coming from an academic background, working with industry is another aspect of the programme that Soheil is looking forward to. He's hoping to better understand what the industry wants and needs and adjust his research accordingly.
With the knowledge he gains, he wants to be able to develop a web-based lite (light) version of the tool to better showcase the project. The web tool will have the capabilities to provide communities with important initial insights into the techno-economic feasibility of microgrid solutions, helping early stages of evaluation and decision-making.
Soheil told us: "Our energy system is no longer viable in the face of growing global challenges like climate change. I'm excited to work with experts in the sector, take on board their advice and use their resources to develop my research and create something that people can effectively us."
[Image Credit: Education NZ Think New Initiative]