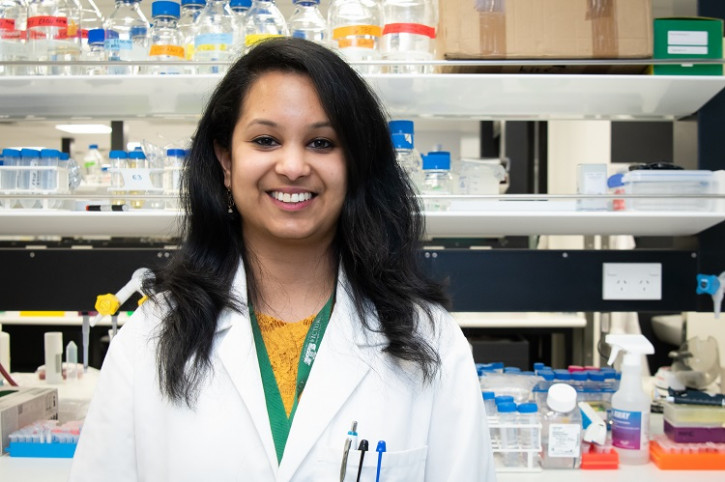 Originally from India, Dr Tifany Oulavallickal moved to New Zealand 12 years ago to complete her Master's in Engineering at the University of Waikato.
Joining Associate Professor Wayne Patrick's lab at the University of Otago to research enzyme evolution, Tifany ventured to Dunedin in 2016 before moving with Associate Professor Patrick's team to Victoria University of Wellington—Te Herenga Waka in 2018 as a Postdoctoral Research Fellow.
Tifany has been the lynchpin of 'Team Ligase', who have been working to identify enzymes for sequencing microRNA (miRNA) populations in more accurate ways. The sequencing of miRNA populations is of interest to researchers and for the diagnosis of many diseases, including several forms of cancer.
With potential to have real impact in research and the future of diagnostics, Wellington UniVentures has supported Tifany throughout the start of her commercialisation journey as she moves from the lab to real-life application.
The Emerging Innovator Programme
Once the enzyme had been characterised, Tifany and the team completed a pilot test to compare it with enzymes currently in market. It was clear that the new enzyme had properties that set it apart from its competitors.
Seeing the potential of her research, Tifany needed support to bring it to market. Tifany looked to Wellington UniVentures to help shape her work and put it into real-life application, and she was introduced to Senior Commercialisation Manager, Matthew Nicolson, who specialises in biological sciences.
Tifany told us: "Matthew and the team have been incredible. They helped with everything from pitching, market validation and patent availability—all things that I hadn't considered throughout my academic research. Matthew also suggested that I apply for the KiwiNet Emerging Innovator Programme, explaining that it would really benefit the development of my commercialisation knowledge."
Matthew Nicholson, shared: "Tifany has been a great candidate for the Emerging Innovator programme. She's passionate about her research and is keen to see it applied in a commercial setting. Tifany is now developing her project to satisfy market demand."
What's the project?
Tifany has been working closely with Associate Professor Patrick as well as Te Herenga Waka's Masters' student, Hamish Trlin and collaborators at the University of Waikato: Dr Joanna Hicks; Prof Vic Arcus; Amanda Maguren and Meghan Rousseau. The research of 'Team Ligase' looks specifically at ligase enzymes, which are important for identifying miRNAs in sample. A miRNA is a type of small RNA found in almost all cells. In chronic diseases, such as cancer and heart disease, the populations of miRNA often become dysregulated. However, the enzymes currently in market are biased towards some miRNA molecules and therefore sequencing results may not be truly representative of the miRNA population in the sample.
The team have been identifying, characterising and engineering ligases that work at high temperatures, because this has been hypothesised to significantly reduce bias in miRNA sequencing protocol. Tifany and the team have found an enzyme that operates near 100°C and can act on miRNAs that competitor enzymes do not recognise.
This has applications in research, as well as both diagnostic and therapeutic purposes, and could impact the treatment of various diseases.
How will the Emerging Innovator Programme support the project?
Tifany is clear that she wants to learn how to develop an impactful product. She hopes that the Emerging Innovator programme will support her in recognising opportunities to connect with companies to push the project forward and create a kit allowing for more accurate miRNA sequencing, with the goal to help people across the globe in diagnosing various diseases.
Tifany told us: "Working in the lab, it's easy to focus solely on the technology and you don't tend to think about the bigger picture. Working with Wellington UniVentures and now being accepted on to the Emerging Innovator programme, I'm able to look at my research from a new angle and think about how best I can take the technology to market."
Tifany was accepted on to the Emerging Innovator Programme in March 2021 is looking forward to working with a mentor as she gets to grips with the processes beyond the research. She is keen to get companies involved and is hoping that the experience will allow her to better understand how to take the project to next stage of development.