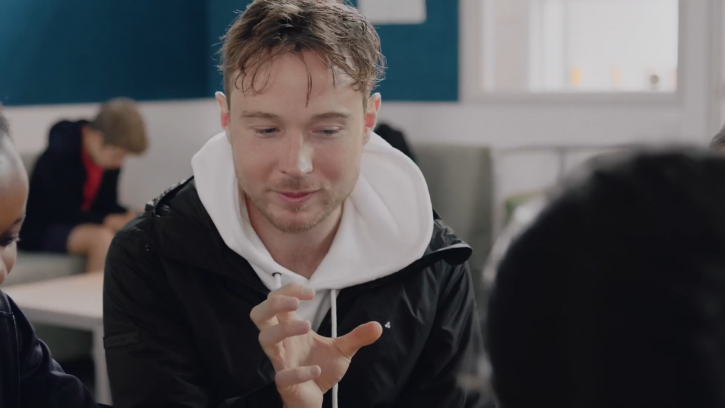 Mental health demands in Aotearoa New Zealand are rapidly increasing with one in five young Kiwis affected by depression by the age of 19[1]. Russ Pine has a background in educational psychology and, as a registered therapist, he is all too familiar with the challenges that young people face when trying to access mental health support. After spending several years working in a practice, Russ decided to complete a PhD in the School of Health at Te Herenga Waka—Victoria University of Wellington. Working directly with adolescents, Russ found digital tools to be a promising approach to therapy and has developed a game to support young people's health and wellbeing.
Russ has created a modern approach for supporting mental health through a casual video game. As an individual progresses through the game, micro-messages are shared which are designed to support simple skills or strategies like noticing, breathing and relaxing, all of which help to manage mental health.
Coming to the end of his PhD, Russ was looking for opportunities to continue his research, refine the game, and support more young people. Russ was connected with the Wellington UniVentures team to help develop his game and build a support tool that is useful, trustworthy and effective for adolescents. Wellington UniVentures encouraged Russ to join the Emerging Innovator programme to connect with industry partners and learn more about how to take his game to next stage of development.
[1] https://www.unicef.org.nz/stories/poor-mental-health-in-children-and-young-people-cannot-be-ignored-unicef
Joining the Emerging Innovator Programme
The concept behind the game has evolved over the course of Russ's PhD. He knows that as more people use the game, it will need to be updated and adapted to suit the needs of its growing audience. To protect the future development of his idea, Russ has connected with Wellington UniVentures. Russ is grateful for the support of the Wellington UniVentures team as they discussed ways to expand the game concept and maintain accessibility.
Russ has been working closely with Wellington UniVentures' Senior Commercialisation Manager, Andrew Cameron, who has a wealth of experience in advancing projects in the health sector. "Andrew is incredibly knowledgeable and has already introduced me to those in the industry who may be able to further support the development of this game," explained Russ.
It was suggested that Russ join the KiwiNet Emerging Innovator Programme to work alongside those in the community and learn best practices for developing a social initiative.
What's the project?
As a therapist, Russ knows that there's no one-size-fits-all solution to improving mental health. Many of the young people that Russ has worked with shared that traditional methods of one-to-one therapies weren't always the best approach. Digital mental health tools are now being designed to support mental health and wellbeing and are far more accessible for teens.
Video games are played by millions around the world for a variety of reasons, including to relieve stress and relax. Russ wanted to harness this idea to create a game that could deliver simple mental health messages to young people already using similar technology. Akin to the games 'Bejewelled' and 'Candy Crush', Russ has created the casual video game 'Match Emoji'. The aim of 'Match Emoji' is to match similarly coloured emojis to earn points and progress through the game. When the user has successfully matched the required number of emojis, a micro-message appears on the screen consisting of a short and simple psychological wellbeing concept. Russ has found a balance of creating a fun game to engage with that also provides young people with useful strategies to help manage their mental health.
Throughout the development of the game, Russ relied on feedback from young people. "It was really about balancing the fidelity of the theory with the need of the young people," explained Russ. "We knew that the game had to be engaging but also helpful long-term. With with the support of schools across the country, we are continuing to develop the game and reach many more people who need support."
How will the Emerging Innovator Programme support the project?
Russ wants to keep his game alive and ensure that it is up to date and relevant. To do this, Russ hopes to learn more about how to develop a sustainable business model through the Emerging Innovator Programme. Russ says, "the game has been created but I hope to be able to maintain it, and ultimately enhance it based on user experience. The research and analytics from the game data has already shown that the concept of mental health casual video games appeal to adolescents and now is the time to keep growing that idea and expanding the offerings to ensure more young people get the support they need."
In the future, Russ would like to create a digital health platform that hosts a variety of mental health tools on offer to young people.
"Youth mental health in New Zealand is incredibly important," says Andrew. "This is an exciting project as we learn more about how digital mental health tools have the potential to reach many young people and can really be tailored to suit the needs of the individual. These digital tools are opening the door to new opportunities to support our teens."