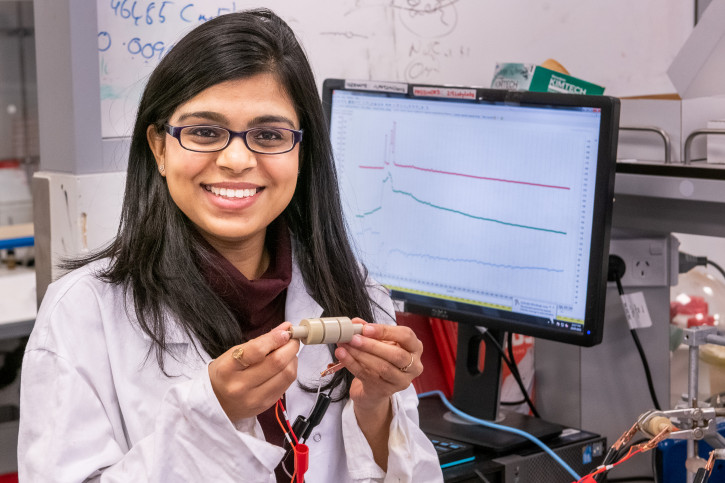 Having recently completed her time on the Emerging Innovator programme, Dr Shalini Divya's transformative innovation in battery technology is continuing to power the way to a more sustainable future. Shalini's research into battery technology, utilises abundantly available aluminium instead of resource-limited lithium.
Wellington UniVentures first connected with Shalini when she started her PhD four years ago. The team have supported her on her journey from student to Co-founder and Chief Executive Officer of the start-up .
Shalini is now working to improve her aluminium-ion battery technology so they can supplement the increasing demand for battery power.
Joining the Emerging Innovator Programme
Early into her PhD, Dr Ashwath Sundaresan, former Wellington UniVentures Senior Commercialisation Manager, could see Shalini's tenacity to shape her research into something that could have global impact. Ashwath knew that the Emerging Innovator Programme would be a great learning tool for Shalini and nominated her.
Gaining commercial experience and meeting with industry to better understand their needs, Shalini has since established TasmanIon.
"Creating a start-up required a whole new set of skills than the ones I gained during my PhD," Shalini says. "The additional wrap-around support from KiwiNet and Wellington UniVentures has really helped me to smoothly transition from the world of science to developing an idea that could become a life-changing initiative."
Currently, Shalini's aluminium batteries have the capacity to power equipment such as light bulbs. Further refinement of the chemical reactions within the battery needs to be made before the batteries can be used for more power-intensive applications. Shalini plans to initially market her battery technology for smaller devices such as drones before gradually improving the batteries so they can be used for electric scooters and cars.
"I never imagined that I would become a businesswoman," says Shalini. "But nothing, in my opinion, beats the idea of creating something in the lab and then sharing your new technology's benefits with the whole world."
What's the project?
Researching more sustainable battery technology for her PhD, Shalini had been exploring alternatives to lithium-ion batteries when she discovered a material that outperforms most other energy storage materials in non-aqueous aluminium battery history. This enabled her to make powerful, long-life batteries from aluminium; a metal that is abundant, non-toxic, unlikely to explode, and is infinitely recyclable.
"Aluminium-ion batteries have the potential to provide more power than lithium-ion batteries. Lithium-ion batteries are made from toxic, difficult-to-recycle substances which can explode when damaged. The raw materials—lithium and cobalt—are finite and running low, while mining them has a huge environmental cost," says Shalini.
As the climate crisis looms over us, the global urgency to shift from fossil fuels to greener, cleaner sources of energy is growing.
"When the sun doesn't shine, or the wind doesn't blow, we need sustainable batteries to store renewable energy. It could be a huge step in lifting people out of poverty by securing their energy needs," says Shalini.
Many of the plans surrounding the transition to cleaner sources of energy involve the replacement of fossil-fuel powered vehicles with electric vehicles. In fact, it is projected that by 2040, electric vehicles could significantly overtake the market in more developed countries. However, these plans have a major obstacle. To mass-produce electric vehicles, we require more lithium than what is available for us to mine on Earth. This dilemma, in combination with other current limitations of lithium-ion batteries, make alternative battery technology such as Shalini's is a crucial requirement for reducing our greenhouse gas emissions.
How has the Emerging Innovator Programme supported the project?
The programme has allowed Shalini to connect with those in the industry and understand the needs of the market. It has helped her to develop the confidence to speak to a new audience about not only the technology, but the impact aluminium-ion batteries can have on the world. Shalini is creating a new battery class which does not rely on lithium, meaning there is a new pathway to meet the demand that is coming.
This drive and vision for a greener future was recognised at the end of 2021 as Shalini was awarded the Breakthrough Innovator Award at the annual KiwiNet Awards 2021.
Hamish Findlay, Wellington UniVentures' General Manager Commercialisation says: "Shalini's determination and passion to share this new technology shines through her work. The programme allowed her to improve her technology and now she's well on the way to take TasmanIon on the next stage of the technical development plan and improve the quality and performance of the batteries. The programme was an invaluable experience for her to grow as an entrepreneur."